Conselhos para fazer root do Samsung Galaxy S6/S6 Edge com PingPong Root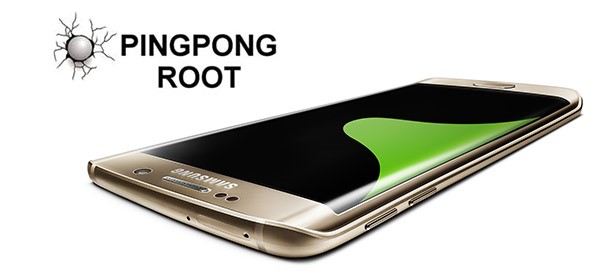 Os smartphones Samsung são extremamente populares em todo o mundo. No entanto, muitos usuários ainda se perguntam "como posso fazer root do meu Samsung"? Neste artigo, mostraremos como rootear seu Samsung S6 e Samsung S6 Edge usando o PingPong Root. Se deseja fazer root de um Samsung S4, S3 ou S2, você pode usar o One Click Root.
O que é o root do Android?
O root do Android é o processo de superar as limitações de dispositivos Android, dando aos usuários o controle privilegiado do sistema do aparelho. O root pode proporcionar ao usuário suficiente autoridade para gerenciar aplicativos e configurações do sistema, além de realizar qualquer operação segundo suas necessidades específicas.
Por que fazer o root de um celular Samsung?
Após seu lançamento, o Samsung Galazy S6 e o S6 Edge conquistaram diversos fãs. No entanto, assim como outros celulares Android, os aparelhos da Samsung também vêm com muitos aplicativos e serviços pré-instalados. Às vezes, estes apps e serviço não significam nada para os usuários, e por isso gostariam de eliminá-los do celular. No entanto, a Samsung não deixa. Como resolver este problema? Simples: fazer root do Samsung S6/S6 Edge com uma ferramenta de root.
Outra situação comum é tentar recuperar mensagens do Android ou recuperar fotos apagadas do celular usando uma ferramenta de recuperação de dados de terceiros. Estas ferramentas requerem o root para conseguir suficiente permissão para fazer o processo de recuperação de arquivos.
Vantagens do root do smartphone Samsung
Controle complete do seu Samsung Galaxy S6/S6 Edge e possibilidade de gerenciar arquivos do sistema e aplicativos.

Possibilidade de desinstalar aplicativos desnecessários para liberar espaço no aparelho Android.

Desbloqueio de arquivos para poder deletá-los diretamente, além de aumentar a segurança do telefone eliminando vírus e arquivos Trojan.

Recuperação de arquivos apagados ou perdidos do smartphone Samsung com um software para recuperar dados.
É seguro fazer o root do Samsung?
Ao fazer o root do seu Android, o mesmo estará aberto a qualquer app, o que significa que qualquer app pode virar o "administrador" do seu telefone para ver e modificar informação privada. Sim, soa arriscado fazer o root do celular Android. No entanto, o root é suficientemente seguro se você tomar cuidado ao instalar apps.
Por que escolher o PingPong Root?
Quando você não consegue recuperar contatos no Samsung por um erro no root, certamente a primeira coisa que lhe vem à mente é buscar no Google por ferramentas de root. No entanto, é difícil escolher entre tantas opções. Então, porque escolher o PingPong Root? O PingPong Root é uma ferramenta profissional de root, especificamente desenvolvida para Samsung Galaxy S6 e S6 Edge. Além disso, faz o root de forma fácil e segura, sem apagar os dados armazenados no seu aparelho Samsung. Desta forma, você pode gerenciar seu Samsung livremente. Para ter uma taxa de êxito mais alta ao fazer o root, verifique a lista de versões compatíveis abaixo. Se você não sabe a versão, vá a "Ajustes" > "Sobre o dispositivo" em celular e poderá verificá-la.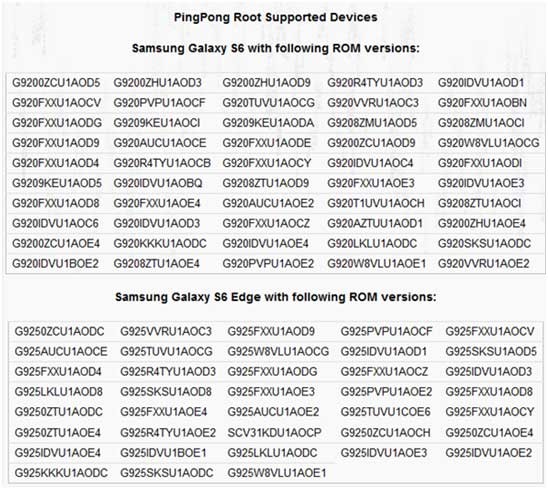 Agora que você já tem o conhecimento básico sobre o root de aparelhos Samsung, pode seguir os passos abaixo para fazer o root do seu Samsung Galaxy S6/S6 Edge com o PingPong Root.
Para isso, você precisará do seu aparelho e um cabo USB. Além disso, recomendamos que faça um backup das mensagens, contatos, fotos e outros dados do seu celular no seu PC.
Primeiramente, baixe o PingPong Root no seu PC. Para isso, vá ao site do PingPong Root e baixe o arquivo APK. Depois, use o cabo USB para transferi-lo ao seu celular Samsung S6/S6 Edge.

Ative a opção "Fontes desconhecidas". Para isso, vá a "Configurações" > "Segurança" > "Fontes desconhecidas".

No seu celular, encontre o arquivo apk e clique nele para instalá-lo. Após a instalação, aparecerá uma nota solicitando a instalação do SuperSU. Quando finalizar ambas instalações, poderá começar a fazer o root do seu celular.

Execute o PingPong Root após a instalação. Você encontrará dois botões no app: "Get root!" e "Download data". Se seu Samsung Galaxy S6 Edge está na lista de "Download data" (como na imagem abaixo", você pode clicar neste botão primeiramente e depois clicar em "Get root!" para começar a fazer o root do seu celular.

O processo inteiro de root demorará um pouco e após sua finalização, clique em "OK" para reiniciar o seu dispositivo.

Depois de rootear seu celular, vá ao Super SU, pressione "Continue" na janela que diz: that "The SU binary needs to be updated. Continue?". A seguir, selecione "Normal" > "Reboot".

Se ao finalizar o processo você ainda não tiver certeza que seu celular foi rooteado com sucesso, pode tentar desinstalar algum aplicativo pré-instalado para verificar. Alternativamente, você pode baixar o "Root Checker" para confirmar. Se o celular estiver rooteado, você verá a seguinte imagem:
Conselhos para erro ao fazer root do seu celular
Se seu celular continuar reiniciando-se constantemente, pode seguir estas dicas:
Feche os processos que estão se executando em segundo plano antes de executar o PingPong Root.

Ative o modo avião após clicar em "Download Data".

Faça o backup dos dados com uma ferramenta como o FoneLab Android e depois resete o aparelho às configurações de fábrica.

Evite fazer qualquer coisa no celular quando a mensagem de espera aparecer.
Os procedimentos de root acima podem demorar um pouco. Mas é a melhor forma de fazer corretamente o root do seu Samsung Galaxy S6/S6 Edge. Depois, poderá desinstalar qualquer app que queira. Além disso, você poderá recuperar dados do seu celular Samsung.
Infelizmente, existem muitas incompatibilidades entres os sistemas da Apple e Android. Por exemplo, para fazer uma simples migração de um iPhone para um celular Android, o usuário precisará utilizar uma ferramenta específica que faça esta ponte e contorne as incompatibilidades.
No caso do root, há o mesmo problema. Atualmente, não existem ferramentas fiáveis e seguras que permitam fazer o root de Android em um Mac. Por isso, para garantir que seus dados e seu sistema esteja seguro, o mais recomendável é não utilizar nenhuma das ferramentas disponíveis para Mac por enquanto. Em vez disso, é preferível fazer o root no Windows. Sabemos que este é um inconveniente, mas por ser um sistema amplamente utilizado, você certamente terá algum familiar ou amigo que utilize Windows. Por isso, recomendamos que peça a algum destes conhecidos para utilizar o PC deles para fazer o root antes de analisar e recuperar os dados no Mac. Assim que estejam disponíveis soluções mais estáveis para Mac, atualizaremos este post.
Gostou do artigo? Ficou alguma dúvida ou gostaria de fazer uma sugestão? Deixe seu comentário abaixo.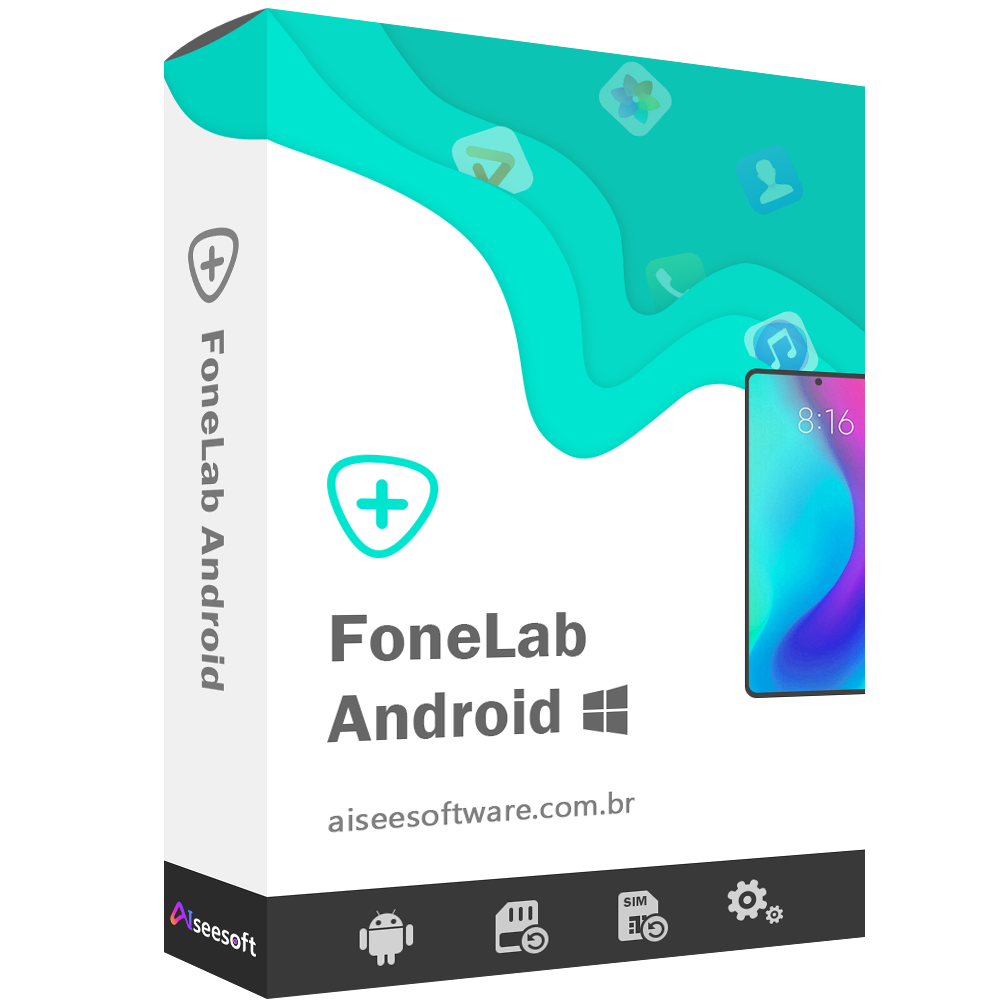 Recupera arquivos apagados de Android

Restaura dados do cartões SD

Faz backup de dispositivos Android
Versão de teste

Baixar Win
Versão de teste

Baixar Mac